LIVE STREAMING : http://events.slooh.com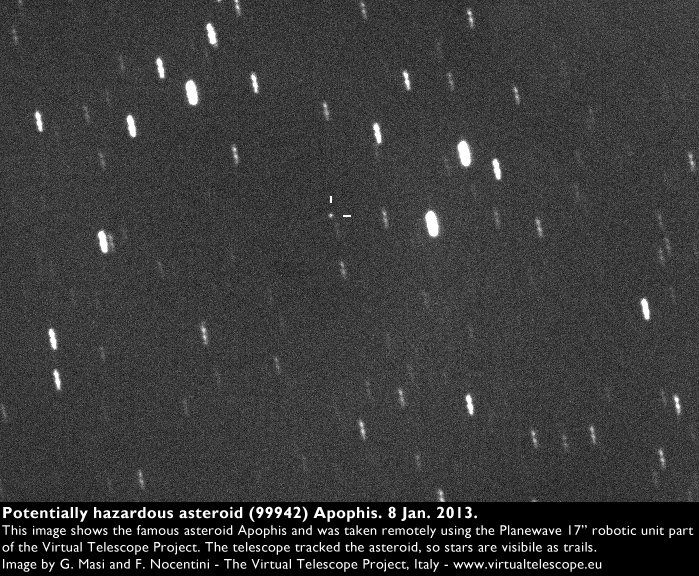 Asteroid Apophis will have its nearest approach to planet Earth today, January 9. Viewers can watch the live streaming of the asteroid flyby at the website Slooh.com. The online sky-watching service will also provide footages from other observatories all over the world.
European Space Agency
Asteroid Apophis could hit earth in 2036.
Related Articles
On Wednesday night, the online Slooh Space Camera will start monitoring the movement of the massive asteroid Apophis as it passes by planet Earth. "The Wednesday night passage will be too dim for even backyard telescopes," Slooh President Patrick Paolucci said in a statement.
On Thursday starting at 11 a.m. (AEST), viewers can still watch the Slooh online cameras observing this time the asteroid's orbit towards the Sun. "Alone among all these near-Earth asteroids that have passed our way in recent years, Apophis has generated the most concern worldwide because of its extremely close approach in 2029 and potential impact, albeit small, in 2036. We are excited to cover this asteroid live for the general public," Paolucci further stated.
Meanwhile, National Aeronautics and Space Administraion (
NASA
) Scientists dismissed reports of asteroid Apophis colliding with Earth today but claims there is this slight possibility that it may happen in 2036. Current space models indicate the collision possibility if the asteroid pass through a 1 km.sq. Y-shaped area in space as it reaches Earth's orbit in 2019.
In 2029, Apophis is estimated to approach Earth uncomfortably at a distance of only 30,000 kilometers. With that, the asteroid is already placed inside the orbit of communication satellites. Scientists are now devoted in obtaining the precise measurements of the space rock's properties such as weight, density, color and shape.
A recent statement from
NASA
's Jet Propulsion Laboratory (JPL) in Pasadena,
California
reads: "Scientific interest in Apophis is acute and it's very important to learn as much as we can about this object when it gets close enough for physical observations."
Asteroid Apophis' radar observations are scheduled on February 2013. Data gathered will greatly help in improving the asteroid's orbit analyses as well as identifying the impact chances. "Due to the proximity of its orbit to Earth, Apophis is being considered as a potential target for both robotic and crewed spacecraft missions," NASA's JPL further stated.
If asteroid Apophis does hit the Earth in 2036, NASA scientists computed that the collision could produce an explosion equivalent to over 500 megatons of
TNT
.
Space alert: Hazardous asteroid nears Earth
Published:
09 January, 2013, 13:55
Space alert: Hazardous asteroid nears Earth