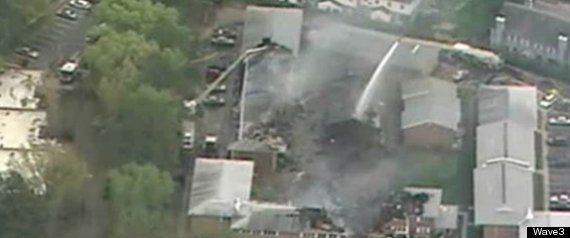 The Navy said that an F-18 jet crashed in a two-story apartment building in Virginia Beach Friday afternoon,
according to WAVY.com
.
Update 2:10 PM EST:
NBC 12
says
five civilians are now being treated for injuries in addition to the two pilots.
Update 2:13 PM EST: From everything we can gather, it seems like most of (if not all) the fires have been extinguished—now it's a matter of triage and finding out just how bad it is inside those smashed buildings.
Update 2:16 PM EST:
Our pals at
Jalopnik
cooked up this helpful map of the crash—that plane barely made it off the tarmac.
Update 2:21 PM EST: It's worth mentioning that jet fly-bys are nothing out of the ordinary for this part of the country—the Virginia Beach area has an enormous military presence.
Update 2:23 PM EST:
CNN
says
the pilots attempted, unsuccessfully, to steer their plane toward the ocean before crashing.
A Navy spokesperson told WAVY.com that the plane was an F/A-18 Hornet from Strike Fighter Squadron 106. It was on a training mission at the time of the crash.
The two pilots ejected safely before the plane crashed. They were transported to local hospitals with non-life-threatening injuries.
There was no immediate word on any injuries on the ground, but that is a possibility due to where the plane crashed.
WAVY.com reported that Virginia Department of Transportation traffic cameras showed thick, black smoke rising from the Birdneck Road area Friday afternoon.
The picture below, which was an eyewitness image submitted to WAVY.com, shows some of the damage.
Four or five buildings are reportedly on fire. There are eight units in each of the buildings.
Virginia Gov. Bob McDonnell issued the following statement this afternoon following news of the crash:
"We are taking all possible steps at the state level to provide immediate resources and assistance to those impacted by the crash of an F-18 fighter jet in Virginia Beach. In the past half hour I have spoken to Virginia Beach Mayor Will Sessoms several times and informed him that all Commonwealth resources are available to him as the community responds to this breaking situation. We are monitoring events carefully as they unfold and State Police resources are now on the scene. Our fervent prayer is that no one was injured or killed in this accident."
Update 12:56 PM EST: A local NBC affiliate says both F-18 pilots have been taken to the hospital after ejecting. A nearby apartment building (!) is being searched for casualties.
Update 12:59 PM EST: Local radio station 96X has this picture of the massive smoke column pouring out of the wreck.
Update 1 PM EST: This Instagram shotclearly shows buildings on fire as a result of the crash.
Update 1:05 PM EST: A local news crew is live on the scene. Footage here.
Update 1:06 PM EST: One Twitter userhas already located the plane's battered ejector seat.
Update 1:08 PM EST: Twitter images are flying in showing the extent of the residential fire(s). Eyewitnesses report particularly "oily" smoke filling the air.
Update 1:10 PM EST: Virginia Beach resident and eyewitness Ross Grogg reports "At least 1 civilian leaving scene on stretcher."
Update 1:14 PM EST: Here's a Google Street View peek at the Mayfair Mews Apartments, which look to be devastated by the crash. Very dense—not a good place for an F-18 impact.
Update 1:16 PM EST: Facebook user Chandler Blake Ferguson relays this image of the F-18 on its way down, allegedly "dumping fuel everywhere and blowing white smoke out."
Update 1:18 PM EST: It looks like we were wrong before—the plane didn't crash near a school, but into (or extremely close to) an apartment complex.
Update 1:19 PM EST: We spoke to Lieutenant Commander Mike Kafka from the US Navy:
This morning an F18 assigned to 106 training squad crashed just

outside the US Naval Airbase Oceana. Both pilots safely ejected. Lt.

Kafka said they'd heard reports that the plane crashed into a

apartment complex, but fell short of actually confirming them. He said

both military and nonmilitary responders were on the ground. Couldn't

confirm reports of an casualties on the ground and said that the cause

of the crash was still unknown at the time.
The Navy told us that more information is coming.
Update 1:25 PM EST: A VA EMS radio scanner reports the following:
4th alarm + mass casualty in area of birdneck rd & 24th st. navy fighter jet crashed into multiple apartment buildings.
Update 1:27 PM EST: Local writer and photographer M. Scott Mahaskey is listening to the fire department scanner: "Apartment building "Pretty much destroyed
Update 1:28 PM EST: Another Facebook user beaming in a look at the burning apartments.
Update 1:32 PM EST: An aerial feed from WAVY-TV shows nearby roofs knocked (or burnt) off from the blast.