BOT nelayan di India kelihatan berlabuh di Laut Arab iaitu di pantai Pali, kampung Pali, Thane. Pantai Pali terletak berdekatan Mumbai, India. Dalam kejadian gempa bermagnitud 8.7 itu, amaran tsunami turut dikeluar sekitar Kepulauan Andaman dan Nicobar, India. - Foto EPA
UPDATE 3 — Huge earthquakes
strike off Indonesia, generate small tsunamis
By BNO News
JAKARTA, INDONESIA (BNO NEWS) -- Two major earthquakes struck off the west coast of northern Sumatra in Indonesia on Wednesday afternoon, generating small tsunamis and shaking buildings as far away as Singapore, Thailand, Sri Lanka, Malaysia, Bangladesh and India.
The first earthquake at 2:38 p.m. local time (0838 GMT) had a preliminary magnitude of 8.6 and was centered about 434 kilometers (269 miles) southwest of Banda Aceh, the capital of Aceh province on the northern tip of Sumatra. It struck about 22.9 kilometers (14.2 miles) deep, making it a shallow earthquake, according to the United States Geological Survey (USGS).
Several hours later, at 4.43 p.m. local time (1047 GMT), a large aftershock with a preliminary magnitude of 8.2 struck about 618 kilometers (384 miles) south-southwest of Banda Aceh at a depth of approximately 16.4 kilometers (10.2 miles), according to the USGS. Seismologists also reported a series of aftershocks in the 6-range.
Indonesia's seismological agency immediately issued a tsunami warning for local coastlines for both coastlines, but there were no immediate reports of major tsunamis. The Pacific Tsunami Warning Center did not issue a warning, but initially issued an Indian Ocean-wide tsunami watch. The tsunami watch was later canceled for all countries, although several countries have continued their national alerts.
"Sea level readings now indicate that the threat has diminished or is over for most areas. Therefore the tsunami watch issued by this center is now canceled," the Pacific Tsunami Warning Center said in a bulletin. It said monitoring gauges mounted on buoys recorded a tsunami of 1.06 meter (3.5 feet) relative to normal sea levels near the Indonesian city of Meulaboh in Aceh. Smaller tsunamis were recorded at Australia's Cocos Island, the Sri Lankan port city of Trincomalee, and in Thailand.
INDONESIA
At a joint press conference with British Prime Minister David Cameron following the first earthquake, Indonesian President Susilo Bambang Yudhoyono said he ordered a disaster relief team to fly to Aceh, where there were reports of some panic but no immediate reports of significant damage or casualties. He said there was no risk of a major tsunami following the first quake and said the situation is 'under control'.
MALAYSIA
Officials at the Malaysian Meteorological Department said they had no immediate reports of tsunami waves but a tsunami warning has been issued as a precaution for several states on the west coast of Peninsular Malaysia, where tremors during the first earthquake lasted for about 5 minutes. "We decided to order an evacuation along the coastal states of Penang, Perlis, Perak, Kedah and Langkawi," an official said.
SRI LANKA
The National Tsunami Early Warning Center at Sri Lanka's Department of Meteorology issued a tsunami warning for the island following the first earthquake. "As the earthquake near Sumatra island at 02:08 pm today has generated tsunami that will affect Sri Lanka, those living near and along the Eastern and Southern coastal regions are advised to evacuate to safe places immediately," the center said in a bulletin.
THAILAND
In the Thai capital of Bangkok, some people reported feeling light shaking as a result of the first earthquake. "I was sitting at my desk on the top floor of an 11-story building in Bangkok and suddenly felt my head slightly swaying left to right," said Mike Amy. "I had felt the previous earthquake in Myanmar (Burma) in a similar way."
The Thai National Department of Disaster Prevention and Mitigation issued a tsunami warning for six provinces along the country's western coast, including the popular tourist destinations of Phuket, Krabi and Phang-Nga. The warning was later downgraded to monitoring status only, indicating there is no significant tsunami threat to Thailand.
INDIA
The Indian government immediately issued a tsunami warning for the Andaman and Nicobar Islands and the coastal areas of Andhra Pradesh and Tamil Nadu. But the warnings were later canceled after Indian experts determined the earthquakes are unlikely to generate a major tsunami because there was no vertical displacement of water.
Indonesia is on the so-called 'Pacific Ring of Fire', an arc of fault lines circling the Pacific Basin that is prone to frequent and large earthquakes. On December 26, 2004, one of the most powerful earthquakes ever recorded struck off the west coast of Sumatra in Indonesia. The 9.1-magnitude earthquake unleashed a deadly tsunami, striking scores of countries in the region, killing at least 227,898 people.
Most recently, on January 11, a powerful 7.1-magnitude earthquake struck about 423 kilometers (262 miles) southwest of Banda Aceh at a depth of about 10 kilometers (6.2 miles). Tremors could be felt in Banda Aceh where residents fled from buildings and rushed to higher ground, but no tsunami was generated.
(Copyright 2012 by BNO News B.V. All rights reserved. Info: sales@bnonews.com.)


| | |
| --- | --- |
| April 11, 2012 earthquake in Indian Ocean | These quakes were off the coast of northern Sumatra in Indonesia, where a 9.1-magnitude quake on December 26, 2004 triggered a tsunami that killed 230,000 people. |
The Pacific Tsunami Warning Center in Hawaii has now cancelled the tsunami watch issued earlier today (April 11, 2012) after an 8.7 magnitude earthquake and 8.2 magnitude aftershock in the Indian Ocean. These two large earthquakes took place off the west coast of northern Sumatra in Indonesia. The first quake struck at 8:38 UTC today. The aftershock, which was south of the first quake, struck at 10:43 UTC. The Pacific Tsunami Warning centered was quoted by the BBC as saying:
…the threat has diminished or is over for most areas.
The Pacific Tsunami Warning Center cancelled the watch at 12:36 UTC today. They had previously issued the watch for Indonesia, India, Sri Lanka, Australia, Myanmar, Thailand, the Maldives and other Indian Ocean islands, Malaysia, Pakistan, Somalia, Oman, Iran, Bangladesh, Kenya, South Africa and Singapore. A "watch" means there is the potential for a tsunami. The Pacific Tsunami Warning Center never issued a "warning" for this event, which would have meant a tsunami was imminent, but the governments of some coastal nations surrounding the Indian Ocean did issue tsunami warnings. There has been no report of major destruction from coastal tsunamis or any deaths. However, many media reported there was "panic" in coastal areas in Sumatra, as residents packed the roads attempting to flee to higher ground.
Sri Lanka turut tarik amaran tsunami


2012/04/11
COLOMBO: Sri Lanka malam ini menarik balik amaran tsunami susulan gempa 8.6 magnitud yang melanda Aceh, di Indonesia sehingga mencetuskan kebimbangan di negara pesisir Lautan Hindi.

"Kepada penduduk, kembalilah semula ke kediaman seperti biasa," demikian kenyataan yang dikeluarkan Pusat Pengurusan Bencana Sri Lanka.
"Penduduk boleh pulang ke rumah masing-masing kerana keadaan selamat," kata jurucakap kerajaan yang disiarkan di stesen televisyen. - AFP
Jakarta (ANTARA News) - Badan Nasional Penanggulangan Bencana (BNPB) menyatakan telah mendeteksi tsunami kecil dengan ketinggian satu meter di Lahewa, Nias Utara, Sumatera Utara, dan 1,02 meter di Meulaboh, Aceh.

"Hal tersebut diketahui dari pantauan terkini pasang surut dari Bakosurtanal yang dilaporkan kepada BNPB," kata Kepala Pusat Data dan Informasi BNPB, Sutopo P Nugroho, di Jakarta, Rabu malam.
Pulau Nias di sisi barat Pulau Sumatera berhadapan langsung dengan perairan Samudera Hindia. Dasar samudera di kawasan itu merupakan pertemuan dua lempeng utama dunia
.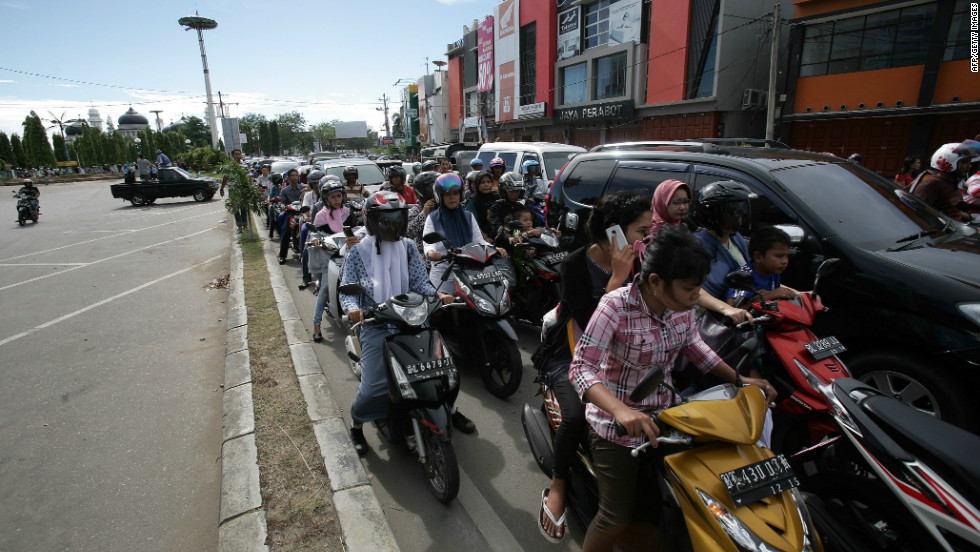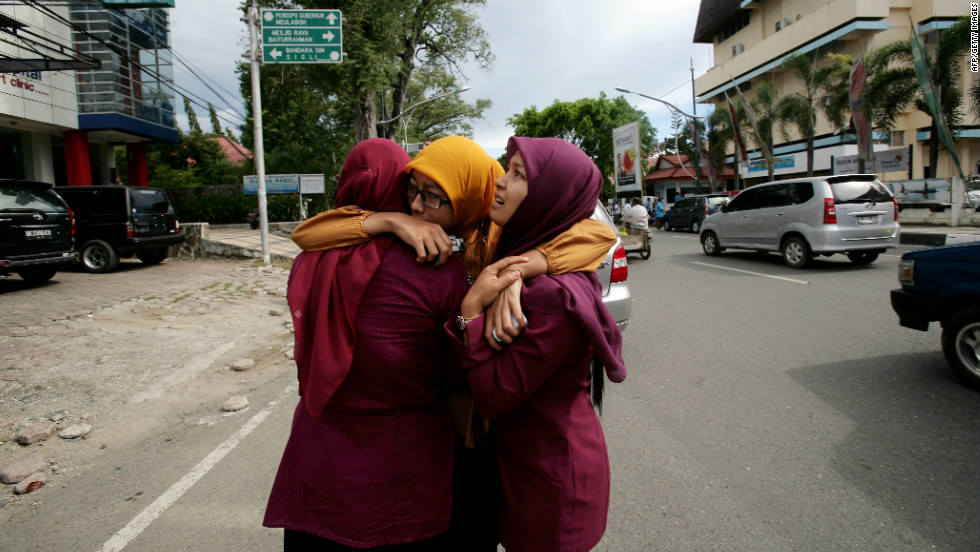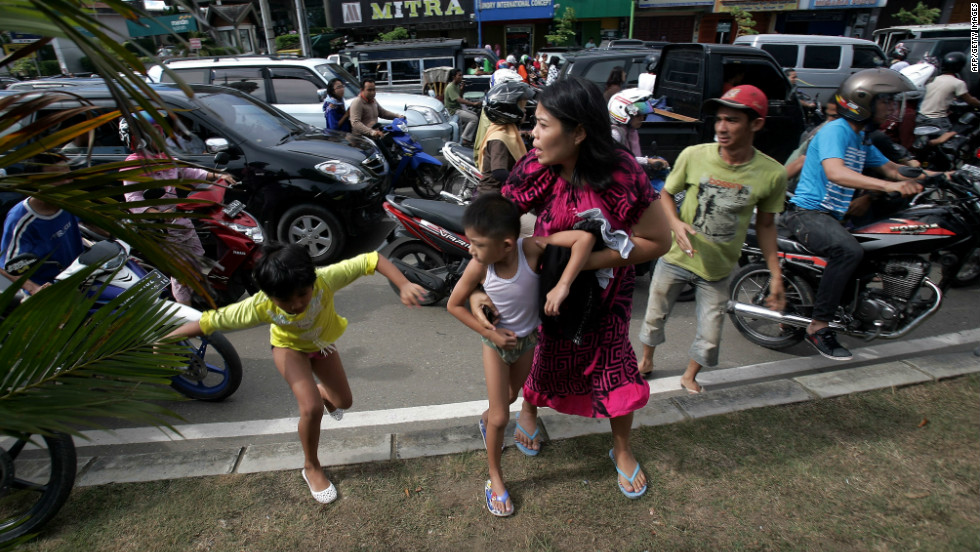 BANDA ACEH (Indonesia): Two massive earthquakes triggered back-to-back tsunami warnings for Indonesia on Wednesday, sending panicked residents fleeing to high ground in cars and on the backs of motorcycles. No deadly waves or serious damage resulted, and a watch for much of the Indian Ocean was lifted after a few hours.
Women and children cried in Aceh, where memories are still raw of a 2004 tsunami that killed 170,000 people in the province alone. Others screamed "God is great" as they poured from their homes or searched frantically for separated family members.
Patients were wheeled out of hospitals, some still lying in their beds with drips attached to their arms. And at least one hotel guest was slightly injured when he jumped out of his window.
The U.S. Geological Survey said the first 8.6-magnitude quake was a shallow 22 kilometers (14 miles), hitting in the sea 270 miles (435 kilometers) from Aceh's provincial capital.
An alert that followed from the Pacific Tsunami Warning Center in Hawaii advised countries all along the rim of the Indian Ocean, from Australia and India to as far off as Africa, that a seismically charged wave could head their way.
Two deadly tsunamis in the last decade - the most recent off Japan just one year ago - have left the world much better prepared.
Sirens sounded along coastlines and warnings spread like wildfire by mobile phone text messaging. Though often chaotic, evacuations began immediately with streets clogged with traffic, especially in Aceh.
The only wave to hit, though, was less than 30 inches (80 centimeters) high, rolling to Indonesia's emptied coastline.
Just as the region was sighing relief, an 8.2-magnitude aftershock followed.
"We just issued another tsunami warning," Prih Harjadi, from Indonesia's geophysics agency, told TVOne in a live interview.
He told his countrymen to stay clear of western coasts.
Residents in Aceh could hardly believe it.
"What did we do to deserve this?" cried Aisyah Husaini, 47, who lost both her parents and a son in the 2004 tsunami. "What sins have we committed?"
"I'm so scared, I don't want to lose my family again," she said, clinging to her two children in a mosque in Banda Aceh, where hundreds of people sheltered.
Again, though, the threat quickly passed.
Experts said Wednesday's quakes did not have the potential to create massive tsunamis because the friction and shaking occurred horizontally, not vertically. The earth's tectonic plates slid against each other, creating more of a vibration in the water.
In contrast, mega-thrust quakes cause the seabed to rise or drop vertically, displacing massive amounts of water and sending towering waves racing across the ocean at jetliner speeds.
Roger Musson, seismologist at the British geological survey who has studied Sumatra's fault lines, said initially he'd been "fearing the worst."
"But as soon as I discovered what type of earthquake it was ... I felt a lot better."
The tremors were felt in neighboring Malaysia, where high-rise buildings shook, and Thailand, India and Bangladesh.
Those countries, Sri Lanka and the Maldives evacuated buildings and beaches and readied relief efforts in case of disaster.
The World Meteorological Organization said communication systems set up after the 2004 tsunami appeared to have worked well.
"Our records indicate that all the national meteorological services in the countries at risk by this tsunami have received the warnings in under five minutes," said Maryam Golnaraghi, the head of WMO's disaster risk reduction program.
The alert was sent out by U.S. National Weather Service, which operates a tsunami warning station in Hawaii, she said.
Indonesia straddles a series of fault lines that makes the vast island nation prone to volcanic and seismic activity.
The giant 9.1-magnitude quake and tsunami on Dec. 26, 2004, killed 230,000 people in about a dozen nations.
Gempa bumi: Amaran tsunami ditarik balik
BANDA ACEH - Indonesia menarik balik amaran tsunami - kira-kira enam jam selepas gempa bumi kuat melanda bahagian utara Sumatera petang ini.

Pusat Amaran Tsunami Pasifik juga membatalkan amaran tsunami yang dikeluarkan kepada negara-negara Lautan Hindi termasuk Malaysia.

Dalam pada itu, laporan Bernama menyebut bahawa Thailand telah menarik balik amaran tsunami berikutan tiada ancaman tsunami di negara itu berikutan kejadian gempa bumi berukuran 8.6 pada skala Richter melanda Aceh.

Amaran itu ditarik balik oleh Pusat Amaran Bencana Kebangsaan malam ini.

Perdana Menteri Yingluck Shinawatra berkata walaupun amaran itu ditarik balik namum negaranya masih berada dalam keadaan berjaga-jaga kerana kemungkinan berlaku gegaran susulan.
Katanya keadaan paras ombak meningkat juga dilaporkan di Laut Andaman di luar pesisiran Thailand.
"Kami akan terus memantau keadaan untuk beberapa jam lagi," katanya. Terdahulu, Yingluck mengadakan mesyuarat tergempar Kabinet di Rumah Kerajaan di sini dengan menggerakkan pelan kecemasaan tsunami.

Sebelum itu perintah berpindah ke kawasan lebih tinggi dikeluarkan di enam wilayah selatan negara itu iaitu Krabi, Phuket, Phangga, Ranong, Satul dan Trang.
Air Pantai di Simeulue Naik 6 Meter
Tri Wahono

|

Rabu, 11 April 2012 | 16:48 WIB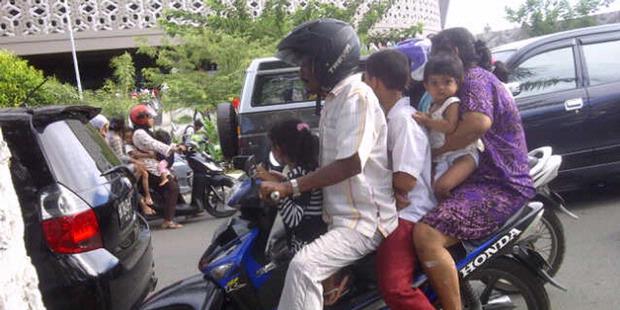 SERAMBI INDONESIA/M ANSHAR
Warga panik mengendarai sepeda motor setelah gempa bumi mengguncang Banda Aceh, rabu (11/4/2012).
JAKARTA, KOMPAS.com — Gempa berkekuatan 8,5 skala Richter yang menguncang Aceh, Rabu (11/4/2012) sore, menyebabkan gelombang ke bibir pantai.
Gelombang dilaporkan telah sampai ke pantai di Simeulue. Demikian disampaikan Prih Harjadi dari Badan Meteorologi, Klimatologi, dan Geofisika (BMKG), saat menginformasikan di salah satu stasiun televisi nasional.
"Tingginya air pantai barat Aceh sudah mencapai 6 meter dan kemungkinan ketika tsunami terjadi, akan terjadi di titik ini lebih dulu sampai ke sepanjang pantai barat Sumatera," ujarnya, menginformasikan.
Lebih lanjut, kemungkinan tsunami akan terhitung mundur hingga 10 sampai 20 menit lagi menyisir seluruh pantai barat Sumatera.
"Kemungkinan jadi seluruh pantai khususnya barat daya Sumut, pantai Sumatera Barat, Bengkulu, dan Lampung," ujar Prih.(Edwin Firdaus)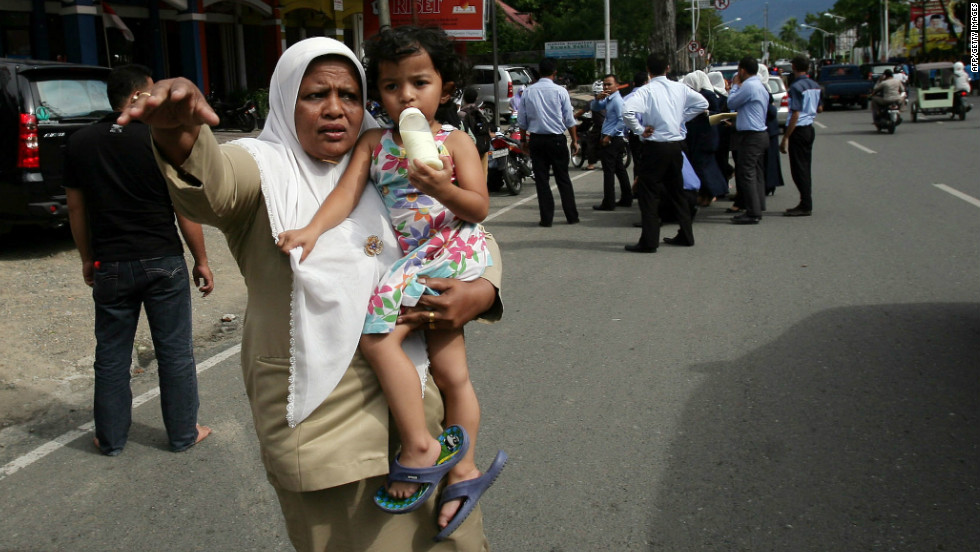 A tsunami warning has been issued in the Indian Ocean after Indonesia's geophysical agency reported a powerful earthquake off Aceh province.
Wednesday's quake was measured at a preliminary 8.9-magnitude.
The US Geological Survey said it struck on a depth of 33km, 495km from the coast.
A tsunami warning was issued across the whole Indian Ocean, including Australia, Pakistan, Somalia, Madagascar, and the United Kingdom and many other countries.
Journalist Syarina Hasibuan told Al Jazeera that people panicked across Sumatra, running out of buildings and gathering in the street
Malaysia rasai gegaran, Indonesia keluar amaran tsunami

2012/04/11
JAKARTA: Indonesia mengeluarkan amaran tsunami sebentar tadi selepas gempa bumi bermagnitud 8.9 menggegarkan wilayah barat Aceh, Indonesia.
Komen yang dipaparkan menerusi Twitter, berkata gegaran turut dirasai di Malaysia, Singapura, Thailand dan India.
Katanya, bangunan pencakar langit, pangsapuri dan pejabat di Malaysia merasai gegaran itu untuk tempoh seminit susulan kejadian terbabit.
Pada 26 Disember 2004, gempa bumi kuat pada magnitud 9.1 yang disusuli tsunami memusnahkan sebahagian besar Aceh. - AP
Indian Ocean tsunami alert lifted
Indonesia, India and Thailand downgrade tsunami alert issued after 8.6-magnitude earthquake off the Sumatra coast.
Last Modified:

11 Apr 2012 14:56
I
ndonesia, India and Thailand have downgraded tsunami alerts that had been issued following powerful earthquakes off the coast of Indonesia's Aceh province, prompting evacuations from coastal regions.
Wednesday's first quake was measured at a magnitude of 8.6, according to the US Geological Survey, which revised down an earlier 8.9 estimate.
"Sea level readings now indicate that the threat has diminished for most areas, therefore the tsunami watch issued by this centre is now cancelled," said the US Pacific Tsunami Warning Centre in Hawaii, which monitored currents in the Indian Ocean following the earthquakes.
A bulletin from the National Tsunami Early Warning Centre in the South Indian city of Hyderabad said: "The expected period of significant tsunami waves is now over for all threatened Indian coastal areas."
LIVE BLOG
An official at the centre, SA Kishore, said the highest tsunami warning level issued for the Andaman and Nicobar islands in the Bay of Bengal had been downgraded from red to orange.
A few thousand people were evacuated to higher ground from parts of India's Andaman and Nicobar islands.
"There could be high waves of 1.5 metres at Port Blair and 3.9 metres at Campbell Bay," said Prabhakar Rao, the official in charge of the disaster control room at Port Blair, the main town on the islands.
'Quite violent'
Small waves about half-a-metre high and within normal tide limits had already washed into the Campbell Bay area on the Great Nicobar island, the official said.
At least three tsunamis of up to 80cm hit Indonesia's coast earlier, the country's Meteorology and Geophysics Agency said.
A small tsunami measuring 10cm also reached Thailand's Andaman Coast.
Phillip Charlesworth, head of the International Federation of Red Cross and Red Crescent Societies delegation in the Indonesian capital, Jakarta, told Al Jazeera that the first quake lasted for about three minutes.
"The shaking was quite violent, from conversations with our staff," he said.

"There appears to be no apparent damage. We certainly don't know what the humanitarian impact is as yet.
"There are no reports of any tsunamis coming ashore, although local authorities are taking precaution of evacuating coastal communities."
Aftershocks
There were several strong aftershocks, including one at a 8.2 magnitude and the depth of 10km.
"The aftershock continued for four minutes, and it was strong," an AFP news agency correspondent in Banda Aceh, the provincial capital, said. "People are panicking and running outside their home and from buildings."
Al Jazeera's Aela Callan said the tremors were also felt in Bangkok, where buildings swayed, but there were no reports of damage.
The initial quake had struck at a depth of 33km, 495km from Banda Aceh.
Indonesia's quake and tsunami explained by
Al Jazeera's meteorologist Kevin Corriveau
People in Banda Aceh on the Indonesian island of Sumatra jumped into cars and the backs of motorcycles, clogging streets as they fled to high ground.
Al Jazeera's Syarina Hasibuan, reporting from Jakarta, said people panicked across the island of Sumatra, running out of buildings and gathering in the streets.
"The earthquake was felt all the way to Padang, which is west Sumatra, and people ran out of buildings and there is really a lot of panic there," he said.
People on Twitter said tremors were felt in Singapore, Thailand, Malaysia and India. High-rise apartments and offices on Malaysia's west coast shook for at least a minute.
In Sri Lanka, residents on the coast were ordered to move inland to avoid being hit by any large waves.
A government statement said waves could hit the island's eastern port district of Trincomalee by about 10:40 GMT.
"There is a strong possibility of a tsunami hitting the island after the earthquake in Indonesia," meteorological department deputy director MD Dayananda said.
He said the quake in Indonesia was felt in Sri Lanka, which is 1,340km northwest from the location of the quake.
Residents fleeing
People near the coast in six Thai provinces were ordered to move to higher places and stay as far away as possible from the sea. The Phuket airport, located on the coastline, was closed.
Callan said phone lines were jammed as people were checking on their loved ones right after the tsunami alert was issued.
She said warning signals had been heard in southern provinces.
"Thailand is quite prepared for this. They hold drills regularly to be able to get tourists and residents to evacuate to higher areas," she said.
Indonesia straddles a series of fault lines that makes the vast island nation prone to volcanic and seismic activity.
A 9.1-magnitude quake off the country on December 26, 2004, triggered a tsunami in the Indian Ocean that killed 230,000 people, nearly three quarter of them in Aceh.
Al Jazeera's meteorologist Kevin Corriveau explained the difference between Wednesday's earthquake and that of 2004: "They were the same depth but the 2004 quake was a subduction earthquake - meaning one plate went underneath the other plate - which then pushed a lot of the water up and out from the epicentre.
"This [in Aceh] is a horizontal plate. The difference is that the two plates are slipping side by side, and not as much water is going to be displaced.
"Now that we are processing the data we know that it is a different kind of plate slippage, which is a little less damaging hopefully than the previous one."
Source:
Al Jazeera and agencies