Libya: fall of Sirte - live updates
• 'Sirte has been liberated' a commander claims
• NTC take last Gaddafi positions in his former stronghold
• Jibril hints he may resign today as interim leader
This page will update automatically every minute:
On
|
Off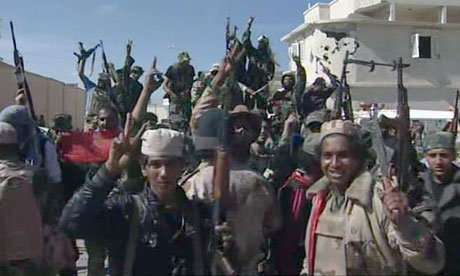 Reuters is quoting NTC official Abdel Majid as saying Gaddafi has been wounded in both legs.
An NTC official has told al-Jazeera that Gaddafi has been captured and was wounded while being detained. There is still no independent verification available.
Muammar Gaddafi
has been captured. The report cannot be confirmed at this stage.
A Libyan TV station has reportedly just announced that
Mahmoud Shammam, the NTC's information minister. was just on al-Jazeera, and alluded to the capture of Gaddafi but refused to confirm it.
He said:
I think we can say that Sirte is liberated ...I think the celebrations are going on right now. Also there's big talk about some big fish on their way to Misrata. I cannot confirm anything but people over there are talking they caught a big fish.
Asked what would happen if Gaddafi had been captured, Shammam said:
We are going to put him in fornt of the court, we're not going to hang him in the street. We are going to give him the fair trial he never gave the Libyan people. We hope that we are catching some big names so we can put them in the court and let the people have the last word on their fate ...I think every Libyan wants to see Gaddafi stand trial.
Please treat the following with lots of caution, but the Misrata Military Council is reporting that Gaddafi himself has been arrested.
This is not confirmed. In an email the Information Centre for the Misrata Military Council said:
Now in contact with our correspondent at the front of the Sirte. The tyrant Muammar Gaddafi Was arrested. God is great and thank God
We may have spoken too soon about Nato's involvement in Sirte.
Al Jazeera's Evan Hill tweets:
Libya's interim government forces appeared taken Sirte without direct help from Nato.
Tripoli residents have been warned not to start firing in celebration at the fall of Sirte, BBC producer Jonny Hallam reports.


Tripoli resident Ali Tweel Aries tweets:
By the way, yesterday there was a wedding in Bab Ben Ghashier, nobody fired a single shot in the air. Only fireworks. it was a great moment.
Reuters has more on the hoisting of the government flag in Sirte:
Libyan interim government fighters hoisted the new national flag above the centre of Sirte on Thursday after completing their capture of Muammar Gaddafi's home town, the last serious pocket of resistance by loyalists of the ousted leader.

A Reuters witness said celebratory gunfire broke out among National Transitional Council forces as the flag was raised above a large utilities building in the Mediterranean city, which had been under NTC siege for nearly two months.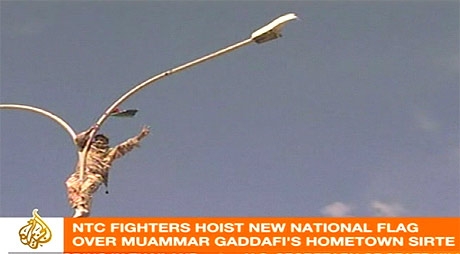 The network is now confirming that Sirte has fallen. It also reports that one of Gaddafi's cousins, Ahmed Ibrahim, was arrested trying to flee Sirte in that convoy.
Ibrahim was responsible for education under the Gaddafi regime.
Al-Jazeera is being cautious about reports that Sirte has fallen. It says government forces are "poised" to take the city, while it shows pictures of fighters celebrating victory and burning the green flag of the Gaddafi regime.
Al Jazeera's James Bays, reporting from Tripoli, said: "Some high level members [of the NTC] ... are aware of the pictures [of Sirte] being broadcast.

"Because all along the NTC has said that once Sirte falls, the war will be over."
Alaeddin Muntasser, a Malta based volunteer helping aid efforts to Libya, quips:


There are reports that some Gaddafi loyalists are continuing to fight in Sirte.
Barry Malone a Reuters journalist tweets:


Blake Hounshell from Foreign Policy magazine:
BBC reporter Peter Biles:
Mahmoud Jibril, Libya's Interim Leader, has hinted that he may step down as soon as today.

In an interview with Time magazine's Vivienne Walt, Jibril described the frustrations of Libya's political power struggle.
Walt writes:
Jibril, who heads the executive board of the rebels' National Transitional Council, did not say exactly when he would resign, but hinted that it could be as soon as Thursday, when a televised meeting of his group would detail what it had accomplished since Gaddafi's ouster, he said. In a grim assessment of Libya's current state, Jibril suggested that as the war dragged on, he had found governing the country was increasingly difficult.
AP has more details on the fall of Sirte:
Libyan fighters have overrun the last positions of Gaddafi loyalists holding out in the city of Sirte and the revolutionaries now have all of the ousted leader's hometown within their hands.

Reporters on the scene say the final push to capture the remaining pro-Gadhafi positions began around 8am on Thursday and was over after about 90 minutes. Just before the assault, about five carloads of loyalists tried to flee the enclave down the coastal highway but were killed by revolutionaries.

Revolutionaries began searching homes and buildings looking for any Gaddafi fighters who may be hiding there.
Reuters has quotes from commanders:
"Sirte has been liberated. There are no Gaddafi forces any more," said Colonel Yunus Al Abdali, head of operations in the eastern half of the city. "We are now chasing his fighters who are trying to run away."

Another front line commander confirmed the capture of the Mediterranean coastal city, which was the last remaining significant bastion of pro-Gaddafi fighters almost three months after the ex-leader was overthrown by rebels.
Government forces have captured the last remaining Gaddafi positions in Sirte, Reuters confirms, citing frontline commanders.
AP is reporting that Sirte has fallen.
Breaking:

Witnesses: Libyan fighters overrun last positions of Gadhafi loyalists in Sirte, city falls.
Some residents are returning to Sirte to protect their homes from being looted by forces loyal to the new government, the BBC reports.
Middle East
Live. Here's a round up of the latest developments.
Welcome to