A meeting at Cern, the world's largest physics lab, has addressed results that suggest subatomic particles have gone faster than the speed of light.
The team
presented its work
so other scientists can determine if the approach contains any mistakes.
If it does not, one of the pillars of modern science will come tumbling down.
Antonio Ereditato added "words of caution" to his Cern presentation because of the "potentially great impact on physics" of the result.
The speed of light is widely held to be the Universe's ultimate speed limit, and much of modern physics - as laid out in part by Albert Einstein in his theory of special relativity - depends on the idea that nothing can exceed it.
Thousands of experiments have been undertaken to measure it ever more precisely, and no result has ever spotted a particle breaking the limit.
"We tried to find all possible explanations for this," the report's author Antonio Ereditato of
the Opera collaboration
told BBC News on Thursday evening.
"We wanted to find a mistake - trivial mistakes, more complicated mistakes, or nasty effects - and we didn't.
"When you don't find anything, then you say 'well, now I'm forced to go out and ask the community to scrutinise this'."
Friday's meeting was designed to begin this process, with hopes that other scientists will find inconsistencies in the measurements and, hopefully, repeat the experiment elsewhere.
"Despite the large [statistical] significance of this measurement that you have seen and the stability of the analysis, since it has a potentially great impact on physics, this motivates the continuation of our studies in order to find still-unknown systematic effects," Dr Ereditato told the meeting.
"We look forward to independent measurement from other experiments."
Neutrinos come in a number of types, and have recently been seen to switch spontaneously from one type to another.
The Cern team prepares a beam of just one type, muon neutrinos, and sends them through the Earth to an underground laboratory at Gran Sasso in Italy to see how many show up as a different type, tau neutrinos.
In the course of doing the experiments, the researchers noticed that the particles showed up 60 billionths of a second earlier than they would have done if they had travelled at the speed of light.
This is a tiny fractional change - just 20 parts in a million - but one that occurs consistently.
The team measured the travel times of neutrino bunches some 16,000 times, and have reached a level of statistical significance that in scientific circles would count as a formal discovery.
But the group understands that what are known as "systematic errors" could easily make an erroneous result look like a breaking of the ultimate speed limit.
That has motivated them to publish their measurements.
"My dream would be that another, independent experiment finds the same thing - then I would be relieved," Dr Ereditato told BBC News.
But for now, he explained, "we are not claiming things, we want just to be helped by the community in understanding our crazy result - because it is crazy".
Faster than light particles found, claim scientists
Particle physicists detect neutrinos travelling faster than light, a feat forbidden by Einstein's theory of special relativity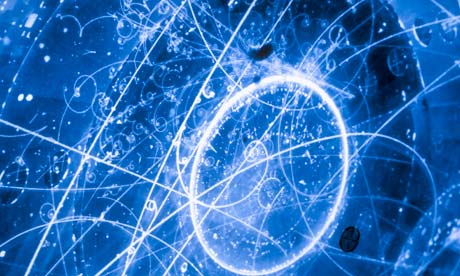 It is a concept that forms a cornerstone of our understanding of the universe and the concept of time – nothing can travel faster than the speed of light.
But now it seems that researchers working in one of the world's largest
physics
laboratories, under a mountain in central Italy, have recorded particles travelling at a speed that is supposedly forbidden by Einstein's theory of special relativity.
Scientists at the Gran Sasso facility will unveil evidence on Friday that raises the troubling possibility of a way to send information back in time, blurring the line between past and present and wreaking havoc with the fundamental principle of cause and effect.
They will announce the result at a special seminar at
Cern
– the European
particle physics
laboratory – timed to coincide with the publication of
a research paper
(
pdf
) describing the experiment.
Researchers on the Opera (Oscillation Project with Emulsion-tRacking Apparatus) experiment recorded the arrival times of ghostly subatomic particles called neutrinos sent from Cern on a 730km journey through the Earth to the Gran Sasso lab.
The trip would take a beam of light 2.4 milliseconds to complete, but after running the experiment for three years and timing the arrival of 15,000 neutrinos, the scientists discovered that the particles arrived at Gran Sasso sixty billionths of a second earlier, with an error margin of plus or minus 10 billionths of a second.
The measurement amounts to the neutrinos travelling faster than the speed of light by a fraction of 20 parts per million. Since the speed of light is 299,792,458 metres per second, the neutrinos were evidently travelling at 299,798,454 metres per second.
The result is so unlikely that even the research team is being cautious with its interpretation. Physicists said they would be sceptical of the finding until other laboratories confirmed the result.
Antonio Ereditato, coordinator of the Opera collaboration, told the Guardian: "We are very much astonished by this result, but a result is never a discovery until other people confirm it.
"When you get such a result you want to make sure you made no mistakes, that there are no nasty things going on you didn't think of. We spent months and months doing checks and we have not been able to find any errors.
"If there is a problem, it must be a tough, nasty effect, because trivial things we are clever enough to rule out."
The Opera group said it hoped the physics community would scrutinise the result and help uncover any flaws in the measurement, or verify it with their own experiments.
Subir Sarkar, head of particle theory at Oxford University, said: "If this is proved to be true it would be a massive, massive event. It is something nobody was expecting.
"The constancy of the speed of light essentially underpins our understanding of space and time and causality, which is the fact that cause comes before effect."
The key point underlying causality is that the laws of physics as we know them dictate that information cannot be communicated faster than the speed of light in a vacuum, added Sarkar.
"Cause cannot come after effect and that is absolutely fundamental to our construction of the physical universe. If we do not have causality, we are buggered."
The Opera experiment detects neutrinos as they strike 150,000 "bricks" of photographic emulsion films interleaved with lead plates. The detector weighs a total of 1300 tonnes.
Despite the marginal increase on the speed of light observed by Ereditato's team, the result is intriguing because its statistical significance, the measure by which particle physics discoveries stand and fall, is so strong.
Physicists can claim a discovery if the chances of their result being a fluke of statistics are greater than five standard deviations, or less than one in a few million. The Gran Sasso team's result is six standard deviations.
Ereditato said the team would not claim a discovery because the result was so radical. "Whenever you touch something so fundamental, you have to be much more prudent," he said.
Alan Kostelecky, an expert in the possibility of faster-than-light processes at Indiana University, said that while physicists would await confirmation of the result, it was none the less exciting.
"It's such a dramatic result it would be difficult to accept without others replicating it, but there will be enormous interest in this," he told the Guardian.
One theory Kostelecky and his colleagues put forward in 1985 predicted that neutrinos could travel faster than the speed of light by interacting with an unknown field that lurks in the vacuum.
"With this kind of background, it is not necessarily the case that the limiting speed in nature is the speed of light," he said. "It might actually be the speed of neutrinos and light goes more slowly."
Neutrinos are mysterious particles. They have a minuscule mass, no electric charge, and pass through almost any material as though it was not there.
Kostelecky said that if the result was verified – a big if – it might pave the way to a grand theory that marries gravity with quantum mechanics, a puzzle that has defied physicists for nearly a century.
"If this is confirmed, this is the first evidence for a crack in the structure of physics as we know it that could provide a clue to constructing such a unified theory," Kostelecky said.
Heinrich Paes, a physicist at Dortmund University, has developed another theory that could explain the result. The neutrinos may be taking a shortcut through space-time, by travelling from Cern to Gran Sasso through extra dimensions. "That can make it look like a particle has gone faster than the speed of light when it hasn't," he said.
But Susan Cartwright, senior lecturer in particle astrophysics at Sheffield University, said: "Neutrino experimental results are not historically all that reliable, so the words 'don't hold your breath' do spring to mind when you hear very counter-intuitive results like this."
Teams at two experiments known as T2K in Japan and MINOS near Chicago in the US will now attempt to replicate the finding. The MINOS experiment saw hints of neutrinos moving at faster than the speed of light in 2007 but has yet to confirm them.
• This article was amended on 23 September 2011 to clarify the relevance of the speed of light to causality.
OPERA experiment reports anomaly in flight time of neutrinos from CERN to Gran Sasso
Geneva, 23 September 2011. The OPERA
1
experiment, which observes a neutrino beam from CERN
2
730 km away at Italy's INFN Gran Sasso Laboratory, will present new results in a seminar at CERN this afternoon at 16:00 CEST. The seminar will be webcast at
http://webcast.cern.ch
. Journalists wishing to ask questions may do so via twitter using the hash tag #nuquestions, or via the usual CERN press office channels.
The OPERA result is based on the observation of over 15000 neutrino events measured at Gran Sasso, and appears to indicate that the neutrinos travel at a velocity 20 parts per million above the speed of light, nature's cosmic speed limit. Given the potential far-reaching consequences of such a result, independent measurements are needed before the effect can either be refuted or firmly established. This is why the OPERA collaboration has decided to open the result to broader scrutiny. The collaboration's result is available on the preprint server arxiv.org:
http://arxiv.org/abs/1109.4897
.
The OPERA measurement is at odds with well-established laws of nature, though science frequently progresses by overthrowing the established paradigms. For this reason, many searches have been made for deviations from Einstein's theory of relativity, so far not finding any such evidence. The strong constraints arising from these observations makes an interpretation of the OPERA measurement in terms of modification of Einstein's theory unlikely, and give further strong reason to seek new independent measurements.
"This result comes as a complete surprise," said OPERA spokesperson, Antonio Ereditato of the University of Bern. "After many months of studies and cross checks we have not found any instrumental effect that could explain the result of the measurement. While OPERA researchers will continue their studies, we are also looking forward to independent measurements to fully assess the nature of this observation."
"When an experiment finds an apparently unbelievable result and can find no artefact of the measurement to account for it, it's normal procedure to invite broader scrutiny, and this is exactly what the OPERA collaboration is doing, it's good scientific practice," said CERN Research Director Sergio Bertolucci. "If this measurement is confirmed, it might change our view of physics, but we need to be sure that there are no other, more mundane, explanations. That will require independent measurements."
In order to perform this study, the OPERA Collaboration teamed up with experts in metrology from CERN and other institutions to perform a series of high precision measurements of the distance between the source and the detector, and of the neutrinos' time of flight. The distance between the origin of the neutrino beam and OPERA was measured with an uncertainty of 20 cm over the 730 km travel path. The neutrinos' time of flight was determined with an accuracy of less than 10 nanoseconds by using sophisticated instruments including advanced GPS systems and atomic clocks. The time response of all elements of the CNGS beam line and of the OPERA detector has also been measured with great precision.
"We have established synchronization between CERN and Gran Sasso that gives us nanosecond accuracy, and we've measured the distance between the two sites to 20 centimetres," said Dario Autiero, the CNRS researcher who will give this afternoon's seminar. "Although our measurements have low systematic uncertainty and high statistical accuracy, and we place great confidence in our results, we're looking forward to comparing them with those from other experiments."
"The potential impact on science is too large to draw immediate conclusions or attempt physics interpretations. My first reaction is that the neutrino is still surprising us with its mysteries." said Ereditato. "Today's seminar is intended to invite scrutiny from the broader particle physics community."
The OPERA experiment was inaugurated in 2006, with the main goal of studying the rare transformation (oscillation) of muon neutrinos into tau neutrinos. One first such event was observed in 2010, proving the unique ability of the experiment in the detection of the elusive signal of tau neutrinos.
Further information:
Contact:
Follow CERN at:
1. OPERA has been designed and is being conducted by a team of researchers from Belgium, Croatia, France, Germany, Israel, Italy, Japan, Korea, Russia, Switzerland and Turkey. The experiment constitutes a complex scientific enterprise that has been realised thanks to the skill of a large number of scientists, engineers, technicians and students, and with the strong commitment of the various actors of the project. In particular we mention the LNGS/INFN and CERN laboratories, and the major financial support of Italy and Japan with substantial contributions from Belgium, France, Germany and Switzerland. The OPERA Collaboration presently includes about 160 researchers from 30 institutions and 11 countries:

IIHE-ULB Brussels, Belgium; IRB Zagreb, Croatia; LAPP Annecy, France; IPNL Lyon, France; IPHC Strasbourg, France; Hamburg, Germany; Technion Haifa, Israel; Bari, Italy; Bologna, Italy; LNF, Italy, L'Aquila, Italy; LNGS, Italy; Naples, Italy; Padova, Italy; Rome, Italy; Salerno, Italy; Aichi, Japan; Toho, Japan; Kobe, Japan; Nagoya, Japan; Utsunomiya, Japan; GNU Jinju, Korea; INR RAS Moscow, Russia; LPI RAS Moscow, Russia; ITEP Moscow, Russia; SINP MSU Moscow, Russia; JINR Dubna, Russia; Bern, Switzerland; ETH Zurich, Switzerland; METU Ankara, Turkey.
2. CERN, the European Organization for Nuclear Research, is the world's leading laboratory for particle physics. It has its headquarters in Geneva. At present, its Member States are Austria, Belgium, Bulgaria, the Czech Republic, Denmark, Finland, France, Germany, Greece, Hungary, Italy, the Netherlands, Norway, Poland, Portugal, Slovakia, Spain, Sweden, Switzerland and the United Kingdom. Romania is a candidate for accession. India, Israel, Japan, the Russian Federation, the United States of America, Turkey, the European Commission and UNESCO have Observer status.