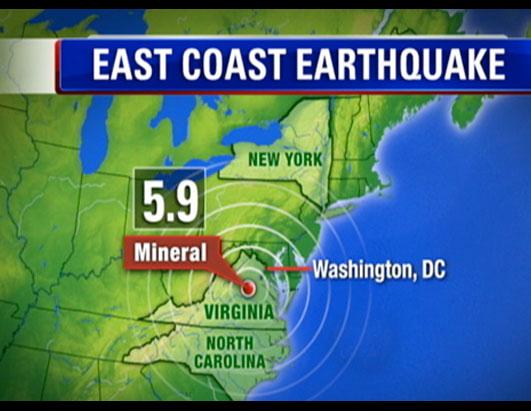 Washington (CNN) -- A strong earthquake in Virginia shut down a nearby nuclear power plant Tuesday afternoon and sent out seismic waves felt by millions from Georgia to northern New England. Three aftershocks were reported by Tuesday evening.
No major injuries or extensive damage were reported after the 5.8-magnitude earthquake, which struck about 40 miles northwest of Richmond. The quake prompted evacuations of office buildings and the precautionary closing of monuments in the nation's capital.
A surge in calls by cell-phone users after the event affected service in many areas, federal officials said.
Aftershocks of magnitude 2.8 and 2.2 were recorded later in the afternoon, followed by one of 4.2 just after 8 p.m. ET, officials said. More aftershocks are possible in the coming weeks.
"It's one of the largest that we've had there," U.S. Geological Survey seismologist Lucy Jones said of the quake.
Most federal buildings in Washington had reopened by late Tuesday afternoon, but officials were taking all precautions before giving the all-clear to some of its most iconic structures. The U.S. Capitol was cleared for employees to come back to get their belongings, but inspectors asked people to limit their time inside the building while engineers continue to work around the complex.
A helicopter inspected the Washington Monument, and it was found to be structurally sound, the National Park Service said.
But a secondary inspection revealed cracking in the stones at the top of the monument. Structural engineers on Wednesday will determine the best way to repair the monument before it is reopened, the agency said. The grounds have been reopened except for an area about 100 feet outside the plaza.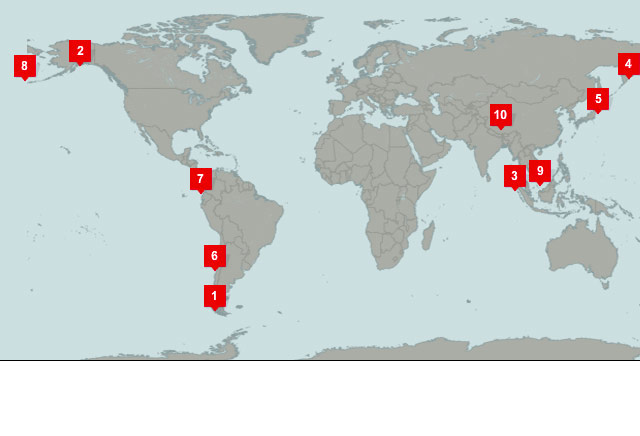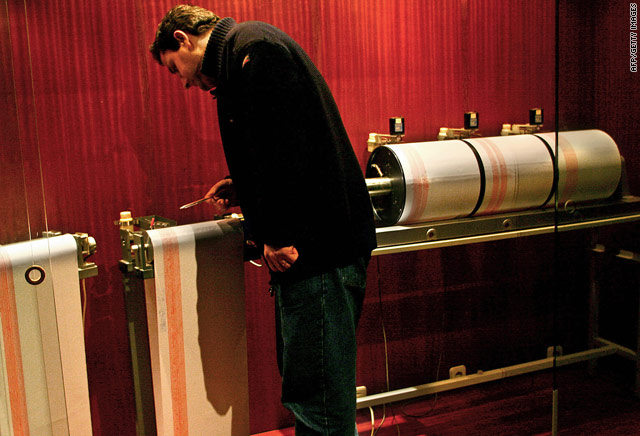 U.S. Park Police spokesman David Schlosser said to his eye, the monument was "clearly not leaning. It's standing tall and proud."
The Lincoln and Jefferson memorials reopened Tuesday evening.
Witnesses reported a number of buildings were evacuated as far away as North Carolina and New York, where a 5.8 earthquake struck in 1944.
The quake, which was recorded at 1:51 p.m., was shallow -- just 3.7 miles deep -- and located 88 miles southwest of Washington near the town of Mineral, Virginia. The magnitude was initially reported as 5.8, then revised to 5.9, and then revised again back to 5.8.
With so many on the East Coast unaccustomed to earthquakes, many people were left wondering whether all that rumbling could have been caused by a truck, helicopter, an explosion or some other force.
Kate Duddy was in an office building elevator in Manhattan, alone, when the shaking started.
"I have never felt a quake before. It was scary having no idea what the cause was," she said. "I felt the vibrations and the elevator stopped for a period of about five minutes."
The earthquake triggered the automatic shutdown of a nuclear power plant less than 20 miles from the epicenter after it lost electricity. The quake signaled "unusual events" at 12 other nuclear facilities across the East Coast and Michigan, U.S. authorities reported.
Dominion Virginia Power said both reactors at its North Anna plant shut down after the first tremors. Reidelbach said the plant vented steam, but there was no release of radioactive material. Dan Stoddard, senior vice president of nuclear operations for Dominion, said there was no damage to the spent fuel pool.
Officials were restoring full power to the site, which was operating on diesel generators. Stoddard said that might happen by late Tuesday, but that was before the evening aftershock. The Nuclear Regulatory Commission was monitoring the plant.
Relatively minor damage was reported in a few Virginia counties, including Louisa, nearest to the epicenter.
Several school buildings had damage, as did town hall buildings, Louisa County spokeswoman Amanda Reidelbach told CNN. An unspecified number of minor injuries were reported in the county.
Desi Fleming, a resident of Mineral in Louisa County, said the quake arrived with a rumbling "that sounded like a train coming to a stop." It knocked down two chimneys on the converted 1900-vintage home that now houses her parcel-shipping business.
Tuesday's incident occurred in a known seismic zone in central Virginia, said Dave Russ of the U.S. Geological Survey. But the strength of the earthquake was a bit surprising. A 5.9 event occurred in 1897 near Blacksburg, he said.
At Washington's National Cathedral, spokesman Richard Weinberg said three 5- to 8-foot pinnacles had broken from the central tower. He said stone masons and engineers would assess the damage, which also included other pieces that broke and fell on the surrounding lawn.
The building was evacuated and closed to the public.
Wayne Clough, the secretary of the Smithsonian Institution, said the national museum's landmark castle on the Mall had cracks in interior walls. There was no immediate indication of structural damage, but the 150-year-old building will need closer examination, he said.
"You want to do an inspection to be sure about that," Clough said.
Clough, who's also an earthquake engineer, said the geography of the Eastern Seaboard helped transmit the shock from the Carolinas to New England. The underlying bedrock is largely a solid sheet, "so you get a lot more travel out of earthquake waves than you would in California," he said.
Those waves extended to downtown New York, where court buildings were evacuated.
"I was trying to figure out what was going on, like everyone else," said Manhattan District Attorney Cyrus Vance, who said he had been through many earthquakes when he lived in California.
Mayor Michael Bloomberg said at an afternoon news conference that the earthquake was felt "across the five boroughs" of the city, but there were no reports of injuries and "virtually no reports of damage."
The quake was also reported to have been felt on the island of Martha's Vineyard, where President Barack Obama was playing golf. He did not feel the earthquake, according to the White House.
The earthquake slowed but didn't halt major transportation services.
Service at major airports throughout the region was disrupted, but all were reported to have resumed normal operations about 75 minutes after the earthquake struck.
At John F. Kennedy International Airport and Newark-Liberty International Airport, control towers were evacuated, the Port Authority of New York and New Jersey said.
Amtrak on Tuesday evening said service between Washington and Baltimore had returned to normal speeds following inspections.
In Spotsylvania, Virginia, Tish Walker said she was spooked and staying outside for the moment.
"I used to live in California, so I know shaking and this felt big," she said. "I grabbed my dog and raced outside; my first thought is always that the furnace might explode or a cabinet crashes down on top of us."
WASHINGTON, D.C. (BNO NEWS) -- One of the strongest earthquakes to strike the U.S. East Coast in decades rocked buildings as far as North Carolina and Canada on early Tuesday afternoon, seismologists said, causing damage to buildings and a number of injuries.
The 5.8-magnitude earthquake at 1.51 p.m. local time (1751 GMT) was centered about 5 miles (8 kilometers) south-southwest of Mineral, a small town in Louisa County in Virginia. It struck about 3.7 miles (6 kilometer) deep, making it a very shallow earthquake, according to the United States Geological Survey (USGS).
Strong shaking was felt over a large area which included Virginia, West Virginia, Washington, D.C., New York, New Jersey, Pennsylvania, Delaware, Maryland, North Carolina, South Carolina, Tennessee, Alabama, Florida, Georgia, Kentucky, Ohio, Michigan, and small parts of Canada.
There were reports of scattered damage throughout the region and numerous injuries, but none were believed to be serious. "Though there are no early reports of major damage or requests for assistance at this time, preliminary damage assessments are currently taking place in all affected states and we will continue to work closely with their emergency management officials," said Rachel Racusen, a spokeswoman for the Federal Emergency Management Agency (FEMA).
"FEMA, along with the entire federal family, is closely monitoring the situation and is in close contact and coordination with our partners in the National Capital Region and our state partners," Racusen added. "Due to overload of cell phone usage, there are reports of cell phone congestion. We request that members of the public use email or text messages if possible to communicate for the next few hours, except in cases of emergency, so that emergency officials can continue to receive and respond to urgent calls."
VIRGINIA
The extent of the damage near the epicenter of the earthquake was not immediately clear, and Virginia Governor Bob McDonnell said all resources of the state have been put on alert to assist in any way necessary. "All indications are that emergency response plans and orderly evacuations have gone well today, and I thank all involved," he said.
Photos and videos uploaded to social networking websites showed damage to some buildings. A video uploaded to YouTube showed debris which crushed destroyed several cars in Tyson's Corner, a unincorporated census-designated place in Fairfax County, Virginia.
At Louisa High School, not far from the epicenter, six students and one staff member were injured. One of them, a teacher, suffered minor injuries when a bookcase toppled over onto her. It was not immediately clear how the students were injured.
At the North Anna nuclear power plant in central Virginia, officials declared an Alert, which is the second-lowest of the four emergency classifications. The alert was declared after the plant lost electricity from the grid following the earthquake, but onsite diesel generators and the plant's safety systems were operating normally.
At the Surry Nuclear Power Plant, plant officials declared an Unusual Event, which indicates a potential decrease in plant safety but is lower than an Alert.
WASHINGTON, D.C.
Most buildings in downtown Washington, D.C. were immediately evacuated after the earthquake, including the White House, the Pentagon, the U.S. Capitol, and other government buildings. Several people were injured.
Pete Piringer, a spokesman for the D.C. Fire and Emergency Medical Services (EMS), said the most significant damage was reported at the Ecuadorian Embassy, Bell Multicultural School, and several other buildings. "Most of those have significant cracks in the building, chimneys fallen down in the street, things of that nature," the spokesman said.
"As you might imagine, our crews are very busy but those who are not on call are out in various neighborhoods doing some assessments," Piringer said. "Checking for structural damage, of course our primary focus will be hospitals, senior centers, schools, buildings of that nature will have the priority, and they are reporting some damage to some of those buildings."
NEW YORK
In the state of New York, Governor Andrew Cuomo said there were no reports of damage to buildings, bridges, roads, power grids, the Indian Point nuclear power plant, or other infrastructure. "The State Office of Emergency Management continues to monitor effects in New York State from the earthquake," he said.
In New York City, scores of buildings were also evacuated, including City Hall and the 26-story federal courthouse which is located in lower Manhattan. "Shortly before 2:00 PM, we evacuated City Hall briefly, but quickly returned to work," Mayor Michael Bloomberg said.
Bloomberg said the earthquake was felt across the city's five boroughs. "I've spoken with our Police and Fire Commissioners, and we've activated the Office of Emergency Management's Situation Room and spoken to other city agencies, including the Department of Buildings. Thankfully, there are no reports of significant damage or injuries in New York City at this time," he added.
Scott Vanderhoef, County Executive of Rockland County, where the Indian Point nuclear power plant is located, said the earthquake was felt at several locations around the plant, but not inside the control room. "Both units are operating at full power. There are no issues affecting plant operation. Both units have entered the procedure for responding to a seismic event and are checking equipment around the plant," he said.
Vanderhoef added that there were also no reports of damage elsewhere in the county.
MASSACHUSETTS
The earthquake was also felt on the island of Martha's Vineyard, located off the coast of Massachusetts, where U.S. President Barack Obama is for his annual vacation. "The president didn't feel the earthquake today," White House Principal Deputy Press Secretary Josh Earnest said.
Less than an hour after the earthquake, Obama held a conference call with a number of senior government officials to discuss the event. "The President was told that there are no initial reports of major infrastructure damage, including at airports and nuclear facilities and that there were currently no requests for assistance. The President asked for regular updates on the situation," Earnest said.
PENNSYLVANIA
Shaking could also be felt in large parts of Pennsylvania, and Pennsylvania Department of Transportation bridge inspectors were doing precautionary inspections of bridges. "We have no reason to believe the Virginia earthquake caused major damage to any state roadways or bridges," said Scott Christie, the Department's Deputy Secretary for Highway Administration.
The department said it was first inspecting bridges which are at least 200-feet (60-meter) long or 60 feet (18 meters) high. Inspections would continue throughout the evening and on Wednesday.
In Berks County, however, police closed the Penn Street Bridge in Reading after noticing cracks in the pavement on the bridge approach but the cracks may have been there before the earthquake. "PennDOT inspectors will thoroughly assess the bridge to make sure it was not damaged," the department said.
Unusual Events were declared at the Peach Bottom Nuclear Generating Station, the Three Mile Island Nuclear Generating Station, the Susquehanna Steam Electric Station, and the Limerick Nuclear Power Plant.
WEST VIRGINIA
West Virginia Governor Earl Ray Tomblin said he was 'surprised and immediately concerned' about the earthquake. "Within minutes of the event, I directed Homeland Security Director Jimmy Gianato to contact various state agencies, utilities, chemical plants and the U.S. Army Corps of Engineers to assess and make quick determination if any of our citizens or significant infrastructure was in need of assistance," he said. "Fortunately, there are no reports of any injuries or damage caused by the quake."
NEW JERSEY
Plant officials declared Unusual Events at the Salem Nuclear Power Plant, the Hope Creek Nuclear Generating Station, and the Oyster Creek Nuclear Generating Station.
MARYLAND
An Unusual Event was declared at the Calvert Cliffs Nuclear Power Plant near Lusby in Calvert County.
NORTH CAROLINA
An Unusual Event was declared at Shearon Harris Nuclear Power Plant in New Hill.
MICHIGAN
An Unusual Event was declared at Donald C. Cook Nuclear Generating Station north of Bridgman.
The earthquake in Virginia was the state's largest in intensity since a 5.9-magnitude earthquake struck Giles County in 1897. It also came just hours after a 5.3-magnitude earthquake struck 4 miles (6 kilometers) south of Segundo, a small unincorporated community in Las Animas County, Colorado. There was some damage, and the USGS said it was the strongest earthquake to hit the state since a 5.3-magnitude earthquake was recorded near Denver on August 9, 1967.
(Copyright 2011 by BNO News B.V. All rights rese
rved. Info: sales@bnonews.com.)
People stand in Foley Square in New York after being evacuated from the Federal and State buildings that surround it on Aug. 23, 2011.

(Richard Drew/AP Photo)
U.S. Park Service helicopter patrols over the White House in Washington, D.C., Aug. 23, 2011, as a member of the Secret Service walks across the roof of the White House following an earthquake in the Washington area.

(Pablo Martinez Monsivais/AP Photo)
Virginia earthquake felt in Washington and New York
A magnitude-5.8 earthquake has rattled the east coast of the United States.
The National Cathedral was damaged and the Washington Monument closed. There were no immediate reports of injuries.
Federal officials said two nuclear reactors had been taken offline near the epicentre of the quake but that no damage had been reported.
A total of 12 nuclear plants declared "unusual events" after the quake.
The quake struck some 84 miles (135km) from south-west of Washington, at a depth of 3.7 miles (6km), the US Geological Survey (USGS) said.
Its epicentre was about 8km (five miles) from the town of Mineral, in the state of Virginia.
An initial measurement of 5.8 was later upgraded to 5.9, but later amended back to 5.8 by the USGS.
The quake was
one of the most powerful
on the east coast of the US since 1897, according to USGS records, matching the strength of a tremor in the state of New York in 1944.
Three aftershocks were recorded during Tuesday, the USGS said, the first two measuring 2.8 and 2.2. The third shock, at 20:04 local time (00:04 GMT on Wednesday), was a magnitude-4.8 tremor.
Flights held
The main earthquake shook Washington DC for about 30 seconds at 13:51 on Monday (17:51 GMT), causing office buildings to sway and houses to shake.
The streets of the city filled with evacuated workers minutes after the quake, and police moved swiftly to cordon off key government institutions, restricting access to federal buildings on Capitol Hill.
Television monitors and lights swayed for about 30 seconds as the quake rumbled away, and the mobile phone network showed intermittent service for some time afterwards.
"When it started, it felt like someone was moving furniture next door," Peter Walker told the BBC from Washington.
"Things began to shake even more and so everyone rushed out into the corridor.
"The alarm went off and the building was evacuated. After an hour we were all sent home.
"There are traffic jams all over the city. The metro is really crowded and so some people are walking or cycling home."
President Barack Obama, on vacation in Martha's Vineyard, Massachusetts, was briefed on the quake by his senior national security and emergency management staff, the White House said, but told that no emergency assistance had been requested.
Cathedral damaged
Reports said the tremor was felt as far north as Boston, in North and South Carolina in the south, and as far west as Indianapolis and Detroit.
In Charlottesville, Virginia. some 35 miles from the epicentre, resident Deb Godden said: "Our top floor apartment shook like crazy and there was a big roaring noise all around us. After that there was silence."
Flights from New York's John F Kennedy and Newark airports were delayed while authorities checked for damage from the quake, but later resumed.
Flights out of Reagan National Airport in Washington were also put on hold, but also resumed normal service shortly after the quake.
The Amtrak passenger train network slowed its trains in its busy north-eastern routes, and advised passengers to expect delays.
In Washington, the Metro public transportation system was running trains at 15mph (24km/h) while workers inspected the tracks, and likewise said customers should expect delays.
Neither system reported injuries.
Reports of minor damage began to trickle in minutes after the quake struck.
At the National Cathedral in north-west Washington, the highest building in the US capital city, three pinnacles in the central tower snapped off and a fourth was leaning. The 30-storey high central tower suffered structural damage.
"It's not massive damage but it's very serious," Sam Lloyd, dean of the National Cathedral, told Associated Press.
Also, the embassy of Ecuador was reported to have suffered major damage.
9/11 procedures
Nuclear reactors in New York, New Jersey, Pennsylvania and Maryland were undamaged, the Nuclear Regulatory Commission said.
In Charleston, West Virginia, hundreds of workers left the state Capitol building.
"The whole building shook," a spokeswoman for the state Supreme Court said. "You could feel two different shakes. Everybody just kind of came out on their own."
The AFP news agency said procedures put in place after the 9/11 attacks were activated in New York when the quake hit. Police guided people to local parks and away from tall buildings.
One witness told AFP she saw a Wall Street skyscraper "shaking like a tuning fork".
Another said the 20th floor of the court building he was on "shook like mad" and that everyone was scared.
Fatima Richardson, 28, who was sitting on the steps of a courthouse said: "You could see the building moving. I was just freaking out."
'The building's shaking'
Lower Manhattan office worker Juan Ramos told AFP he was confused after giving blood.
"I saw my cup of coffee shaking but I thought nothing of it. I had just donated blood so I thought I had not recovered my equilibrium," he said.
The quake disrupted a news conference on the Dominic Strauss-Kahn affair given by Manhattan District Attorney Cyrus Vance.
"To deprive a defendant of his liberty, guilt has to be proven beyond a reasonable doubt," Mr Vance said.
"For generations, this standard has protected... What's happening?... The whole building's shaking... Okay, okay, I've been through earthquakes in Seattle... Slowly, slowly, don't rush."