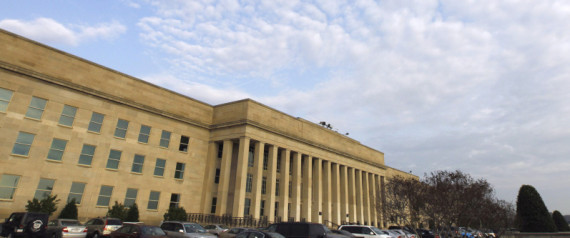 ARLINGTON, Va. — Authorities took one person into custody and closed roads around the Pentagon Friday after a "suspicious device" was found in a car, NBC News reported.
One or two other suspects who "fled the scene" on foot were being hunted by police, according to NBC News' Jim Miklaszewski.
Although it was not immediately clear what the device was, one official told NBC News that "it looks like a bomb."
The incident brought traffic to a standstill in the area.
NBCWashington.com reported that the suspicious vehicle was discovered on Washington Boulevard.
Routes 27 and 110 around the Pentagon, all ramps to and from Interstate 395 near the Pentagon and eastbound Interstate 66 to Route 110 were all closed early Friday morning, according to The Associated Press.
NBC News' Jim Miklaszewski, The Associated Press and msnbc.com staff contributed to this report.
Person taken into custody near Pentagon
8:30 A.M. Update:
There is a press conference right now, and we will have more information shortly.
8:20 A.M. Update:
Rail service at the Pentagon station is operating normally this morning and ridership is up because of the situation, said Dan Stessel, a Metro spokesman.
He said there are bus bays at the Pentagon that are open "but getting to them is nearly impossible."
Buses that normally operate to or from the Pentagon are being rerouted to the Pentagon City Metro stop, he said.
— Dana Hedgpeth
Updated: 8:07 a.m.
Channel 9 is reporting authorities are planning to do a controlled explosion of the suspicious vehicle.
Updated, 7:46 .m.
Authorities say one person has been taken into custody in connection with an investigation into a suspicious vehicle near the Pentagon.
Pentagon police spokesman Chris Layman says the person was taken into custody early Friday morning, and that one or two other people may be involved. Layman says the car is in bushes near the Pentagon's north parking lot.
No further details about the investigation were immediately available.
The investigation has closed Routes 27 and 110 around the Pentagon, all ramps to and from Interstate 395 near the Pentagon and eastbound Interstate 66 to Route 110.
Metro says rail service has not been affected, but travelers should expect delays and detours on Metro buses.
--Associated Press
Man With Suspicious Device Detained at Pentagon
Police detained a man near the Sept. 11 memorial at the Pentagon this morning after he was reportedly found carrying a suspicious device and pro-al Qaeda literature, officials said.
The man appears to be a U.S. citizen of Ethiopian ethnicity. He would not make any admissions to the police.
The man's backpack contained what officials believe is ammonium nitrate and spent 9mm shells as well as written material that contained statements including: "al qaeda taliban rules," sources told ABC News.
One source told ABC News that they need final confirmation on whether it is ammonium nitrate and it's not clear whether this was a workable device.
Officials at the site said they detonated some device.
The Pentagon and the surrounding areas were closed this morning after police received word of a suspsicious package. Police are looking for two more people who may be involved.
ABC News' Howard Price contributed to this report