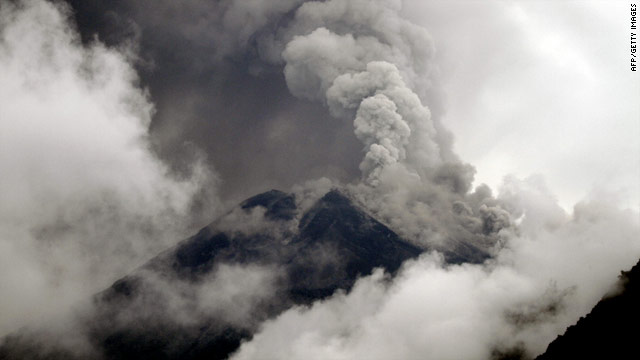 Authorities in Ecuador closed schools and evacuated residents in areas near the Tungurahua Volcano on Tuesday after the volcano spewed ashes that fell on homes and farms, state media reported.
Ashes from Tungurahua rose more than 7 kilometers (4 miles) into the air Tuesday, the government news agency said. The glacier-capped, 16,478-foot (5,023-meter) volcano has erupted periodically since 1999.
Location
Tungurahua (5,023 m) is located in the Cordillera Oriental of the Andes of central Ecuador, 140 kilometres (87 mi) south of the capital Quito. Nearby notable mountains are Chimborazo (6,267 m) and El Altar (5,319 m).
It rises above the small thermal springs town of Baños de Agua Santa (1,800 m) which is located at its foot 8 km to the north. Other nearby towns are Ambato (30 km to the northwest) and Riobamba (30 km to the southwest). Tungurahua is part of the Sangay National Park.
With its elevation of 5,023 m, Tungurahua just over tops the snow line (about 4,900 m). Tungurahua's top is snow covered and did feature a small summit glacier which melted away after the increase of volcanic activity in 1999.
False-color satellite image of Tungurahura (center right, with plume of ash emanating from it) and its neighbor Chimborazo (center left).
Volcanism
Today's volcanic edifice (Tungurahua III) is constructed inside its predecessor's (Tungurahua II) caldera which collapsed about 3000 (±90) years ago. The original edifice (Tungurahua I) collapsed at the end of the late Pleistocene.
Historical volcanic activity
Tungurahua's eruptions are strombolian. They produce andesite and dacite. All historical eruptions originated from the summit crater and have been accompanied by strong explosions, pyroclastic flows and sometimes lava flows.
In the last 1,300 years Tungurahua entered every 80 to 100 years into an activity phase of which the major have been the ones of 1773, 1886 and 1916-1918.
Recent volcanic activity
In 1999, after a long period of quiescence, the volcano entered an eruptive phase that continues to this day (as of March 2011). The renewed activity in October 1999 produced major ashfall and led to the temporary evacuation of more than 25,000 inhabitants from Baños and the surrounding area (El Comercio 1999).
Activity continued at a medium level until May 2006, when activity increased dramatically, culminating in violent eruptions on 14 July 2006 and 16 August 2006.
The 16 August 2006 eruption has been the most violent since activity commenced in 1999. This eruption was accompanied by a 10 km high ash plume which spread over an area of 740 by 180 km (IG-EPN 2006, [4]), depositing ash and tephra to the southwest of the volcano.
Tungurahua spews hot lava and ash at night (1999)
Several pyroclastic flows were generated that killed seven people, and destroyed a number of hamlets and roads on the eastern and northwestern slopes of the volcano (El Comercio 2006). The seven people who died were a family of five and two scientists.
A further eruption and evacuation occurred on 4 December 2010. Ecuador's National Agency of Risk Control issued a "red alert", later downgraded to orange.
The Ecuadorean Institute for Geophysics reported a rapid increase in seismic activity, a number of explosions and an ash cloud reaching 2 kilometres (1.2 mi) in height.