Tornadoes devastate South, killing at least 290
AP/Greg Bluestein
A tornado has flattened Pleasant Grove, Ala., a subdivision of Mountain Grove, Thursday, April 28. 2011.
More photos »
PLEASANT GROVE, Ala. – Firefighters searched one splintered pile after another for survivors Thursday, combing the remains of houses and neighborhoods pulverized by the nation's deadliest tornado outbreak in almost four decades. At least 290 people were killed across six states — more than two-thirds of them in Alabama, where large cities bore the half-mile-wide scars the twisters left behind.
The death toll from Wednesday's storms seems out of a bygone era, before Doppler radar and pinpoint satellite forecasts were around to warn communities of severe weather. Residents were told the tornadoes were coming up to 24 minutes ahead of time, but they were just too wide, too powerful and too locked onto populated areas to avoid a horrifying body count.
"These were the most intense super-cell thunderstorms that I think anybody who was out there forecasting has ever seen," said meteorologist Greg Carbin at the National Weather Service's Storm Prediction Center in Norman, Okla.
"If you experienced a direct hit from one of these, you'd have to be in a reinforced room, storm shelter or underground" to survive, Carbin said.
The storms seemed to hug the interstate highways as they barreled along like runaway trucks, obliterating neighborhoods or even entire towns from Tuscaloosa to Bristol, Va. One family rode out the disaster in the basement of a funeral home, another by huddling in a tanning bed.
In Concord, a small town outside Birmingham that was ravaged by a tornado, Randy Guyton's family got a phone call from a friend warning them to take cover. They rushed to the basement garage, piled into a Honda Ridgeline and listened to the roar as the twister devoured the house in seconds. Afterward, they could see outside through the shards of their home and scrambled out.
"The whole house caved in on top of that car," he said. "Other than my boy screaming to the Lord to save us, being in that car is what saved us."
Son Justin remembers the dingy white cloud moving quickly toward the house.
"To me it sounded like destruction," the 22-year-old said. "It was a mean, mean roar. It was awful."
At least three people died in a Pleasant Grove subdivision southwest of Birmingham, where residents trickled back Thursday to survey the damage. Greg Harrison's neighborhood was somehow unscathed, but he remains haunted by the wind, thunder and lightning as they built to a crescendo, then suddenly stopped.
"Sick is what I feel," he said. "This is what you see in Oklahoma and Kansas. Not here. Not in the South."
Alabama Gov. Robert Bentley said his state had confirmed 204 deaths. There were 33 deaths in Mississippi, 33 in Tennessee, 14 in Georgia, five in Virginia and one in Kentucky. Hundreds if not thousands of people were injured — nearly 800 in Tuscaloosa alone.
Some of the worst damage was about 50 miles southwest of Pleasant Grove in Tuscaloosa, a city of more than 83,000 that is home to the University of Alabama. The storms destroyed the city's emergency management center, so the school's Bryant-Denny Stadium was turned into a makeshift one. School officials said two students were killed, though they did not say how they died. Finals were canceled and commencement was postponed.
Tuscaloosa Mayor Walter Maddox told reporters that police and the National Guard will impose a curfew at 10 p.m. Thursday, and 8 p.m. the next night. Authorities have been searching for survivors so far, but Maddox said they will begin using cadaver dogs on Friday.
A tower-mounted news camera in Tuscaloosa captured images of an astonishingly thick, powerful tornado flinging debris as it leveled neighborhoods.
That twister and others Wednesday were several times more severe than a typical tornado, which is hundreds of yards wide, has winds around 100 mph and stays on the ground for a few miles, said research meteorologist Harold Brooks at the Storm Prediction Center.
"There's a pretty good chance some of these were a mile wide, on the ground for tens of miles and had wind speeds over 200 mph," he said.
The loss of life is the greatest from an outbreak of U.S. tornadoes since April 1974, when the weather service said 315 people were killed by a storm that swept across 13 Southern and Midwestern states.
Brooks said the tornado that struck Tuscaloosa could be an EF5 — the strongest category of tornado, with winds of more than 200 mph — and was at least the second-highest category, an EF4.
Search and rescue teams fanned out to dig through the rubble of devastated communities that bore eerie similarities to the Gulf Coast after Hurricane Katrina in 2005, when town after town lay flattened for nearly 90 miles.
In Phil Campbell, a small town of 1,000 in northwest Alabama where 26 people died, the grocery store, gas stations and medical clinic were destroyed by a tornado that Mayor Jerry Mays estimated was a half-mile wide and traveled some 20 miles.
"We've lost everything. Let's just say it like it is," Mays said. "I'm afraid we might have some suicides because of this."
President Barack Obama said he would travel to Alabama on Friday to view storm damage and meet Bentley and affected families. As many as a million homes and businesses there were without power, and Bentley said 2,000 National Guard troops had been activated to help. The governors of Mississippi and Georgia also issued emergency declarations for parts of their states.
"We can't control when or where a terrible storm may strike, but we can control how we respond to it," Obama said. "And I want every American who has been affected by this disaster to know that the federal government will do everything we can to help you recover and we will stand with you as you rebuild."
The storm prediction center said it received 164 tornado reports around the region, but some tornadoes were probably reported multiple times and it could take days to get a final count.
In fact, Brooks said 50 to 60 reports — from the Mississippi-Alabama line, through Tuscaloosa and Birmingham and into Georgia and southwestern Tennessee — might end up being a single tornado. If that's true its path would be one of the longest on record for a twister, rivaling a 1925 tornado that raged for 219 miles.
Brooks said the weather service was able to provide about 24 minutes' notice before the twisters hit.
"It was a well-forecasted event," Brooks said. "People were talking about this week being a big week a week ago."
Gov. Bentley said forecasters did a good job alerting people, but there's only so much they can do to help people prepare.
Carbin, the meteorologist, noted that the warning gave residents enough time to hunker down, but not enough for them to safely leave the area.
"You've got half an hour to evacuate the north side of Tuscaloosa. How do you do that and when do you do that? Knowing there's a tornado on the ground right now and the conditions in advance of it, you may inadvertently put people in harm's way," he said.
Officials said at least 13 died in Smithville, Miss., where devastating winds ripped open the police station, post office, city hall and an industrial park with several furniture factories. Pieces of tin were twined high around the legs of a blue water tower, and the Piggly Wiggly grocery store was gutted.
"It's like the town is just gone," said 24-year-old Jessica Monaghan, wiping away tears as she toted 9-month-old son Slade Scott. The baby's father, Tupelo firefighter Tyler Scott, was at work when the warning came on the TV.
"It said be ready in 10 minutes, but about that time, it was there," Monaghan said. She, Slade and the family's cat survived by hiding in a closet.
At Smithville Cemetery, even the dead were not spared: Tombstones dating to the 1800s, including some of Civil War soldiers, lay broken on the ground. Brothers Kenny and Paul Long dragged their youngest brother's headstone back to its proper place.
Unlike many neighboring towns, Kenny Long said, Smithville had no storm shelter.
"You have warnings," Long said, "but where do you go?"
Some fled to the sturdy center section of Smithville Baptist Church. Pastor Wes White said they clung to each other and anything they could reach, a single "mass of humanity" as the building disintegrated around them.
The second story is gone, the walls collapsed, but no one there was seriously hurt. The choir robes remained in place, perfectly white.
Seven people were killed in Georgia's Catoosa County, including in Ringgold, where a suspected tornado flattened about a dozen buildings and trapped an unknown number of people.
"It happened so fast I couldn't think at all," said Tom Rose, an Illinois truck driver whose vehicle was blown off the road at I-75 North in Ringgold, near the Tennessee line.
Catoosa County Sheriff Phil Summers said several residential areas had "nothing but foundations left," and that some people reported missing had yet to be found.
In Trenton, Ga., nearly two dozen people took shelter in an Ace Hardware store, including a couple walking by when an employee emerged and told them to take cover immediately.
Lisa Rice, owner of S&L Tans in Trenton, survived by climbing into a tanning bed with her two daughters. Stormy, 19, and Sky, 21.
"We got in it and closed it on top of us," Rice said. "Sky said, `We're going to die.' But, I said, `No, just pray. Just pray, just pray, just pray.'"
For 30 seconds, wind rushed around the bed and debris flew as wind tore off the roof.
"Then it just stopped. It got real quiet. We waited a few minutes and then opened up the bed and we saw daylight," she said.
The badly damaged Moore Funeral Home, meanwhile, sheltered the woman who cleans Larry Moore's family business. When the first of three storms hit and uprooted trees in her yard, she figured the funeral home would be a safer place for her two children. As shingles began sailing past the window, she headed for the basement.
"That's what saved her, I guess," Moore said. "It was over in just a matter of seconds. She called 911 and emergency crews had to help her get out."
The storm system spread destruction from Texas to New York, where dozens of roads were flooded or washed out.
In a large section of eastern Tennessee, officials were looking for survivors and assessing damage. In hard-hit Apison, an unincorporated community near the Georgia state line where eight people died, about 150 volunteers helped with the search.
It was unclear how high the death toll could rise. In Mississippi, Lee County Sheriff Jim Johnson and a crew of deputies and inmates searched the rubble, recovering five bodies and marking homes that still had bodies inside with two large orange Xs.
"I've never seen anything like this," Johnson said. "This is something that no one can prepare for."
___
Mohr reported from Phil Campbell, Ala. Associated Press writers Jay Reeves in Tuscaloosa; Phillip Rawls in Montgomery; Vicki Smith in Morgantown, W.Va.; Kristi Eaton in Norman, Okla.; Ray Henry in Ringgold, Ga.; Meg Kinnard in Columbia, S.C.; Michelle Williams in Atlanta; and Bill Poovey in Chattanooga, Tenn., contributed to this report.
Southern storms death toll nears 300
April 29, 2011 -- Updated 0244 GMT (1044 HKT)STORY HIGHLIGHTS
Virginia revises death toll downward
Two University of Alabama students are killed
Nearly 1 million customers without power
Death toll nears 200 in Alabama
Read more about this story from CNN affiliates WBMA-TV andWIAT-TV. Is severe weather affecting you? Share stories, photos and video with iReport.
Tuscaloosa, Alabama (CNN) -- Dazed Southerners on Thursday comforted one another and began the process of rebuilding after a barrage of storms claimed nearly 300 lives and reduced once-familiar neighborhoods to piles of bricks and lumber.
The grim death toll from the 24-hour storm period continued to rise, with 294 counted in six states. Among them were two university students in Alabama. Nearly 1 million customers were without electricity.
The vast majority of fatalities occurred in Alabama, where at least 207 people perished, according to state and local officials.
Gov. Robert Bentley and other officials stood Thursday afternoon in the bright sunshine in Tuscaloosa, the epicenter of the state's misery, to detail the damage and recovery effort.
"People's lives have just been turned upside down," Bentley said. "It affects me emotionally. When I fly over this, it is difficult."
The South endured the second deadliest tornado outbreak in the nation's history since 1950. Weather experts said humidity, cooler temperatures and vertical wind shear made for a deadly concoction.
The death toll in the hard-hit city of Tuscaloosa, in west-central Alabama, was at 38 as of Thursday, said Mayor Walter Maddox. Infrastructure losses are hurting recovery efforts, he said.
"My heart is broken," Maddox told CNN late Thursday. "We have a resilient spirit here and it will be on display for the world to see."
A breakdown provided by Bentley's office showed that violent weather claimed lives in 19 Alabama counties, with Tuscaloosa County at the top of the list. Thirty-two people perished in DeKalb County in northeastern Alabama, and 14 died in Jefferson County, home to Birmingham. The death toll for Franklin County stood Thursday evening at 27.
Thirty-three people died in Mississippi since Tuesday, all but one on Wednesday and Thursday, emergency officials said. Tennessee emergency officials said 34 people died in that state. Fifteen were dead in Georgia, five in Virginia -- where authorities revised an earlier count down from eight -- and one in Arkansas. The outbreak officially started Monday, and Arkansas officials said they have lost 13 residents since then.
CNN iReporter Thomas I. Carroll Jr., 47, who grew up in Smithville, Mississippi, took photos of the town, which suffered at least 13 deaths. He said at least half the city was gone.
"It looks like something out of Kansas. It's not expected in Mississippi," said the dentist, who rushed over Wednesday afternoon to check on his parents, whose house was damaged but they were uninjured.
Search crews were looking for the missing in the city of about 900.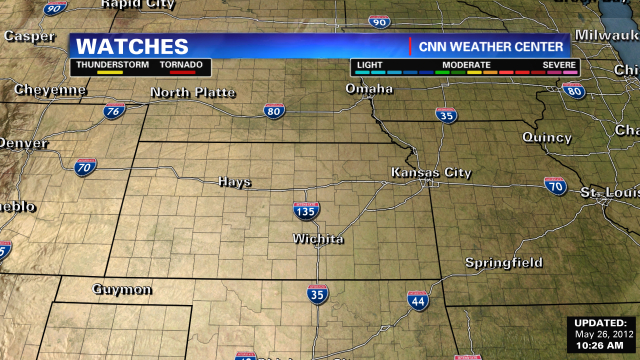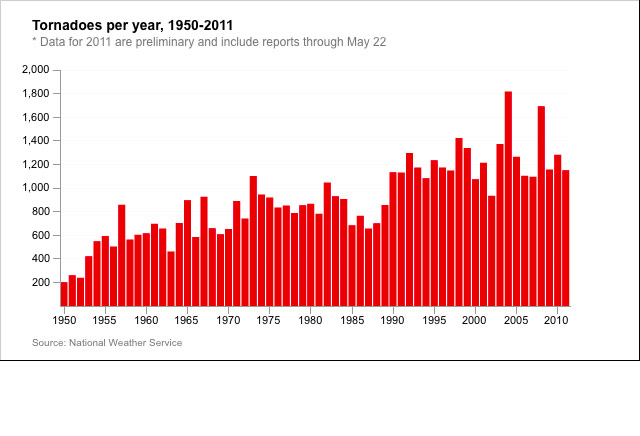 Entire neighborhoods were leveled and hundreds of thousands of people were without power in the affected regions. As of 6 p.m. (7 p.m. ET), Alabama Power said about 297,000 customers had no electricity. The Tennessee Valley Authority reported 641,000 customers were without power as of 8:30 p.m. ET, at least half of them in northern Alabama.
Thursday evening, about 49,000 people in Georgia were without power, according to Georgia Power and the Georgia Electric Membership Corp.
"This could be one of the most devastating tornado outbreaks in the nation's history by the time it's over," CNN meteorologist Sean Morris said.
It wasn't just the incredible winds and funnel clouds that made conditions miserable for millions.
Louisiana Gov. Bobby Jindal declared a state of emergency in preparation for the Mississippi River cresting well above flood level. In Mississippi, Gov. Haley Barbour advised residents to prepare for levels 3 feet higher than in 2008.
Long before the death toll mushroomed, governors in Alabama, Mississippi and Georgia had declared states of emergency within their borders. Virginia followed suit Thursday. Barbour said he was asking for a statewide emergency declaration.
"Our efforts are to put lives and businesses back together," Georgia Gov. Nathan Deal said.
President Barack Obama on Thursday called the loss of life from storms in the South "heartbreaking," especially in Alabama. The "federal government will do everything we can to help (people affected by the deadly storms) recover," he said.
Obama announced late Wednesday he had approved Bentley's request for emergency federal assistance, including search and rescue support. The White House said Obama will travel to Alabama on Friday.
Bentley said Thursday he is asking Obama for a major disaster declaration. According to FEMA, such declarations are made when "an incident is of such severity and magnitude that effective response is beyond state and local capabilities and that federal assistance is necessary."
In the DeKalb County, Alabama town of Rainsville, 25 bodies were recovered near a trailer park, said Police Chief Charles Centers. Many people are unaccounted for, Centers said.
The Nuclear Regulatory Commission said it was monitoring the Browns Ferry nuclear power plant near Athens in north Alabama, about 32 miles west of Huntsville, after it lost off-site power Wednesday night due to the storms. The three units at the plant shut down automatically when power was lost, it said.
TVA spokeswoman Barbara Martocci told CNN no radiation was released as a result of the shutdown, and the plant is currently in a safe shutdown mode.
At least one strong tornado swept through Tuscaloosa, leaving dozens of roads impassable and destroying hundreds of homes and businesses.
Resident James Sykes said the massive twister was "like a silent monster. It was just moving at a steady rate and just demolishing everything in its path."
"It literally obliterated blocks and blocks of the city," Maddox, the Tuscaloosa mayor, said. He told CNN Thursday morning the devastation was "unparalleled ... the city's infrastructure has been absolutely decimated."
The University of Alabama, located in Tuscaloosa, escaped mostly unscathed, but two students died.
"From my understanding, these were two separate incidents," spokesman Bill McDaniel said. "The students are not believed to have been together."
McDaniel did not have details on who the students were or where they were at the time.
The university will not conduct final exams as scheduled next week and commencement has been rescheduled from May 7 to August 6, according to the school's website.
Bentley activated 2,000 National Guard troops Wednesday night and said he will activate more if necessary. In Mississippi, Barbour said he had also activated the National Guard. National Guard spokesman Maj. Tom Crosson in Washington said about 120 troops were in Mississippi and 50 more in Arkansas.
More than 1,700 people were treated for injuries at trauma centers and hospitals in Alabama, including those treated and released.
A Facebook page was set up for users to claim photos and documents found strewn by the storms.
"House mortgage from Tuscaloosa found in Rainbow City," said the caption on one photo. The two cities are 116 miles apart.
Several meteorological conditions combined Wednesday to create a particularly dangerous mix, CNN's Morris said.
"It is tornado season, but an intensive event like this only will occur maybe once or twice a year," he said. "It's very rare to have all these ingredients come together."
Eight people died and 28 were hospitalized in the agricultural community of Apison, east of Chattanooga, Tennessee.
"We have an overabundance of volunteers and donated food," said county emergency services spokeswoman Amy Maxwell.
Animals were among storm victims in Apison, Maxwell said. "We had to put down a horse that had a broken leg and another was killed when a barn collapsed on it."
The town of Ringgold, Georgia, about 17 miles southeast of Chattanooga, was hit particularly hard, officials said. The storm also unleashed as many as 80,000 chickens in Pickens County, Georgia, after four huge coops were destroyed.
A tornado severely damaged Reba Self's Ringgold home in a matter of seconds. For a time, she thought she had lost much more than just a place to live, as she frantically searched for her mother, who also lives in the house.
"I'm screaming for her, 'Answer me, Mom -- please, Mom, answer me.' I didn't hear anything. It turns out she had gotten out of the house and walked around to the basement door, and she asked me if I was OK."
Self told CNN Radio she believes her mother is still in shock over what happened.
The storms are being compared to the "super outbreak" of tornadoes April 3 and 4, 1974, Craig Fugate, the FEMA administrator, said Thursday. In that period, 148 tornadoes were reported in 13 states, and 330 people died. States affected were Alabama, Georgia, Illinois, Indiana, Kentucky, Michigan, Mississippi, North Carolina, Ohio, South Carolina, Tennessee, Virginia and West Virginia.
CNN's Reynolds Wolf, Martin Savidge, Vivian Kuo, Devon Sayers, Dave Alsup, Phil Gast, Lesa Jansen, Ashley Hayes, Kevin Conlon, Barbara Starr, Ben Smith, Matt Cherry, Susan Candiotti and Wayne Drash contributed to this report.